NELSON JORDAN CENTER - Corner of 13th and Jacobs Street - Wheeling, WV 26003
The Nelson Jordan Center, also called "NJC" and is the OLD gymnasium for Wheeling Central Catholic High School is located up the road from the NEW gymnasium on the corner of 13th and Jacob Streets respectively in the Eastern portion of Wheeling, WV.

To get to the Nelson Jordan Center from Interstates 70 or 470... From 70, take Route 2 South. From 470, take Route 2 North. Drive on Route 2 until you approach the 16th Street Exit. I-70 users turn right on exit, while I-470 users turn left. Drive on 16th street until you see Jacobs Street on the right. Turn right on Jacobs Street and drive on it until you find 13th street. Drive on 13th until you see a big white sign that says "Nelson Jordan Center". It's slightly up the road (up the hill, too) from the new Wheeling Central gymnasium.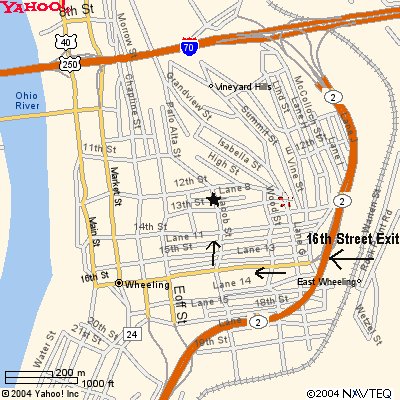 If you have trouble finding the Nelson Jordan Center, just stop by a local gas station or the Convenient foodmart nearby for directions. If Nelson Jordan Center gets weird looks, just ask for "Wheeling Central's gymnasium" and it should be up the road on 13th street from there.